Dear readers,
The Opal Dragonfly is launched and has now taken flight!
I had the most amazing book launch with Mark Tedeschi AM, QC doing the honours, lavish in his praise of the novel: "I was enthralled ... the best written book I've read in a decade."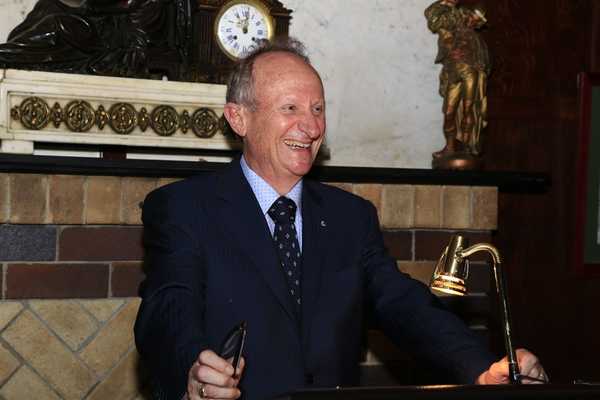 Mark Tedeschi AM, QC (image courtesy of Julie Willis)
I have also received some excellent reviews in the last few weeks from online reviewers and on Goodreads and even a mention in the April issue of The Australian Women's Weekly.
"a memorable, epic work that is destined to become an Australian literary classic."
"beautifully evokes this exciting era in Sydney's history"
"We need more writers such as Julian Leatherdale in our literary sphere in Australia."
"sumptuously wrought Australian historical fiction....a classic, sweeping romance ..with a heart-stopping climax and an immensely satisfying conclusion, as well as a beautiful touch of magic that whispers throughout"
A credit to Leatherdale's superb standard of storytelling. A must read novel, and easily in my top ten reads for 2018.
I had very high expectations let me tell you as his first book PALACE OF TEARS was my joint book of the year in 2015. Julian Leatherdale did not let me down!!!
I have given two well-attended talks about my research at the Sydney Mechanics School of Arts (SMSA) and the Springwood Hub for the Blue Mountains Libraries with more to come:
Sutherland Shire Library - 6.30pm, 14 May, 2018
City of Ryde Library - 6.30pm, 24 May, 2018
I am appearing alongside authors Kirsty Manning and Nicola Moriarty at Better Read Than Dead bookshop in Newtown for their Biggest High Tea - Saturday 26 May, 2018.
My thanks to the management and staff of Sydney Living Museums and to YoungPhil Jang of Sydney Msa for the opportunity to take part in the Thomas Keneally Centre (TKC) series of author talks in the magnificent dining room at Elizabeth Bay House:
Will keep you posted about future events and reviews,
Cheers
Julian