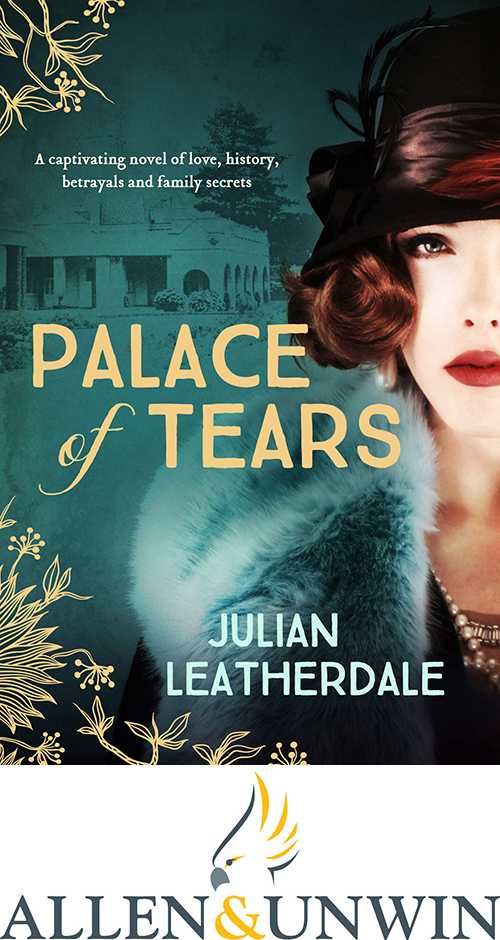 For a list of places to purchase the book, click here.
To view the Book Launch Gallery, click here.
A PDF of the first chapter can be downloaded here.
Available in bookshops and department stores in Australia and New Zealand and as an ebook worldwide online. Also available as an audiobook published by Bolinda. HarperCollins Germany will be releasing my German translation in May 2016.
"...a rollicking epic tale that elegantly wraps themes of lost love with intrigue, art, movie stars, the supernatural and revenge."

The Daily Telegraph, 8 September 2015
"I have just read my 2015 book of the year; a book that kept me enthralled; a book that I actually deliberately read slowly because I didn't want it to end; a book that moved me to my very core."

5★ Sally, Books and Musings from Downunder
"The Palace of Tears is an extraordinary story, full of mystery… if you enjoy watching shows like Downton Abbey or like a bit of mystery in the books you read, then I recommend that you pick this one up. A wonderful first novel."

4★ from Liana, My Little Corner of the Literary World
"…stands tall among contemporary, historical writing... a tale lovingly told by a master novelist, a fascinating tale of human strengths and follies. It is eminently satisfying."

Ian Lipke, M/C Reviews: Media and Culture, QUT
"A tap-dancing debut novel beautifully and lyrically written.."

The Australian Women's Weekly, August 2015
"Leatherdale brings to life the grandeur and flamboyance of the pre-war and post-war era, when the Palace built its reputation on its glamorous parties and guests. Overall, it's an entertaining, colourful and informative novel."

4★ from Write Note Reviews
"It's fast-paced, addicting and enthralling. I loved this book so much and would recommend it to anyone."

5★ from Sandy on Goodreads
"This is a well-written book with a great sense of place…a great debut novel from Julian Leatherdale which achieves a good balance between educating and entertaining readers."

4★ from Debbish.com
"The book, like the glamorous hotel it celebrates, brims with detail…the tension climbs tightly towards a cracker of an ending. This book should attract a broad readership…and don't be surprised to find it adapted for the screen."

Joanne Shiells, Books+Publishing Review
"Melding history and fiction, Palace of Tears is an entertaining novel and an impressive debut."

4★ from Book'd Out
"Palace of Tears ticked all the boxes for me. With a gothic theme, rich Australian landscape setting and a mystery revolving around long held family secrets to solve, I was bound to love it… a truly wonderful first novel."

5★ from Amanda on Goodreads
"Leatherdale… has a keen instinct for the novelistic potential of historical events. This story brings together the sophistication of global modernity and the Australian bush.,, there is much that is fascinating in this novel. The depictions of social changes over the 19th and 20th centuries, and the Palace and the Blue Mountains setting are all intelligent and appealing."

Jeanette Delamoir, Newtown Review of Books.