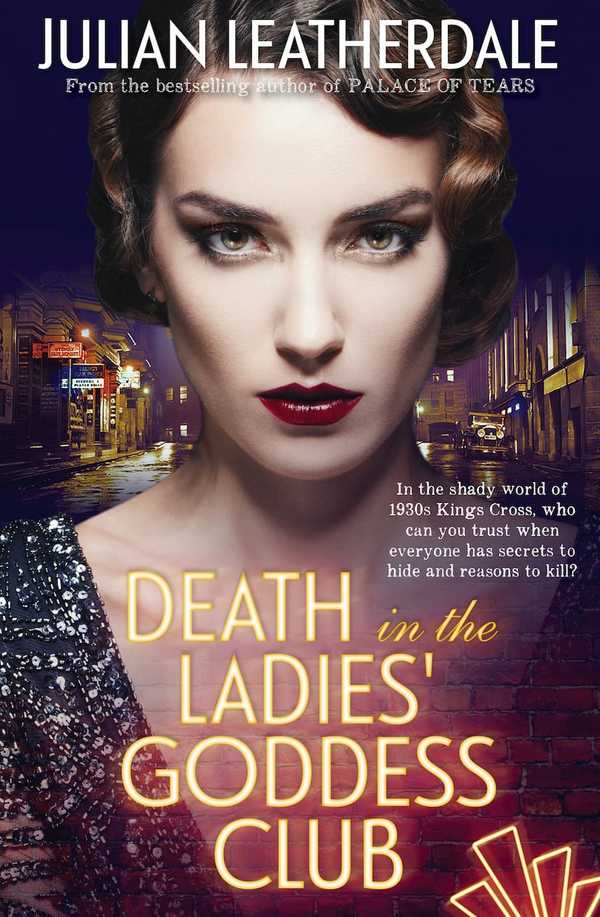 Check out the book on allenandunwin.com
Murder and blackmail, family drama and love, all set within the shady underbelly of 1930s Kings Cross and its glamorous fringe.
"Julian Leatherdale's third historical novel is a lavish escapade through Sydney's Kings Cross in 1932 – the year the Harbour Bridge was opened and a politically tumultuous time for the city. Beginning with all the intrigue of a classic murder mystery, Death in the Ladies' Goddess Club becomes an erotically charged thriller and, beneath all the glamour and glitz, a sobering portrait of a society still reeling from the First World War."
"Death in the Ladies' Goddess Club is an opulent historical odyssey into our nation's past. Encompassing murder, ambition, blackmail, double crossings, love, lust, trauma and family relations, Julian Leatherdale's latest is a truly absorbing novel. Death in the Ladies' Goddess Club reminds us of a glamorous, as well as a dangerous age in our country's historical fabric."
"This was a beautifully written, thoroughly engrossing novel. Set in Sydney, mostly in Kings Cross, in 1932 this is one of the most rounded and convincing historical settings that I have ever encountered for the time period in Sydney."
'Crime's not a woman's business, Joanie. It's not some bloody game.'
In the murky world of Kings Cross in 1932, aspiring crime writer Joan Linderman and her friend and flatmate Bernice Becker live the wild bohemian life, a carnival of parties and fancy-dress artists' balls.
One Saturday night, Joan is thrown headfirst into a real crime when she finds Ellie, her neighbour, murdered. To prove her worth as a crime writer and bring Ellie's killer to justice, Joan secretly investigates the case in the footsteps of Sergeant Lillian Armfield.
But as Joan digs deeper, her list of suspects grows from the luxury apartment blocks of Sydney's rich to the brothels and nightclubs of the Cross's underclass.
Death in the Ladies' Goddess Club is a riveting noir crime thriller with more surprises than even novelist Joan bargained for: blackmail, kidnapping, drug-peddling, a pagan sex cult, undercover cops, and a shocking confession.
From the shadows of bohemian and underworld Kings Cross, who will emerge to tell the real story?